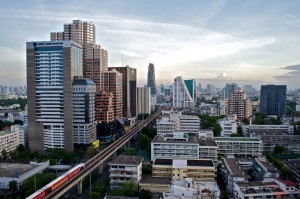 Many expats in Thailand tend to wonder what the status of their children will be if they marry a Thai. Does the child become a Thai citizen and how does the  birth registration work. Even if you are not married to the child's mother the child will receive Thai citizenship. The birth is normally registered at the district office where the child was born. For most expats this would be the district where the hospital is located. The hospital will provide you with a birth certificate when your child is born. Speak to a local lawyer in Thailand if you need to arrange dual nationality for your child born in Thailand.
Your wife or girlfriend will take the birth certificate and her ID card and tabian baan – house registration certificate and a copy of your passport to register the birth. A good example has been provided by a hospital in Phuket with regards to birth registration in Thailand.  If the baby is born at Vachira Phuket Hospital or Bangkok Phuket Hospital, which are both located in Phuket City, the baby's birth must be registered with Phuket City Municipality.
If the baby is born at Phuket International Hospital, the birth must be registered at the Muang District Office, and if the baby is born in Patong, the birth must be registered with Patong Municipality. Some hospitals, such as Phuket International Hospital, offer a service to register the baby's birth automatically so the parents only need to prepare the related documents and the process will be completed by the hospital's staff. The private hospitals usually offer an all in one service which makes it much easier as they do all the paperwork and legwork for you. Speak to an attorney if you are not certain how to register your baby in Thailand or for the purposes of your embassy in Thailand.
If you are needing assistance with registering a child born abroad then contact us at Siam Legal for assistance with your embassy and the Thai government to ensure that you child has dual nationality.
Call us today for more information.